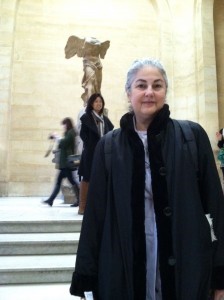 Laurie Layton Schapira
Since 1993, Laurie Layton Schapira has been creating films that combine her interest in feminine psychology and mythology. Fascinated by the power of the image, she is drawn to the medium of film to tell her stories and has written, directed, edited, and produced a variety of films including:
Coming Home (1 hr 12 min, 2018) – documentary
The Prophecy of the Seeress (40 min, 2012) – narrative
Street Scene (7 min, 2002) – narrative short
The Cave (7 min, 1999) – short dance narrative
Women in China: Up Against the Wall (37 min, 1997) – an award-winning documentary
"I first got involved with film when a director friend asked if I would be a PA on his set. I loved the production experience but was smitten by the craft and magic of editing. So then I went ahead and shot my first film with a Hi-8 camera at the UN Women's Conference in Beijing in 1995."
A Jungian psychoanalyst, Schapira trained at the C. G. Jung Institute of New York, where she teaches and serves on the board of directors. Since the publication of her book, The Cassandra Complex, she has lectured worldwide and appeared on television and radio (PBS, NPR, BBC, Discovery Channel, TVE) on the subjects of feminine psychology and Greek and Norse mythology.
Juan Escudero Amaya
Juan Escudero Amaya has been making films with his wife Laurie since 1999. With a degree in Engineering Science from CUNY/College of Staten Island, Juan brings all of his many talents as an artist and engineer to bear as a producer, musician, cameraman, and technician. He is also a consummate flamenco guitarist. Born in a trunk, Juan is the nephew of flamenco dancer extraordinaire Carmen Amaya and has performed across the United States, Europe, and Latin America.